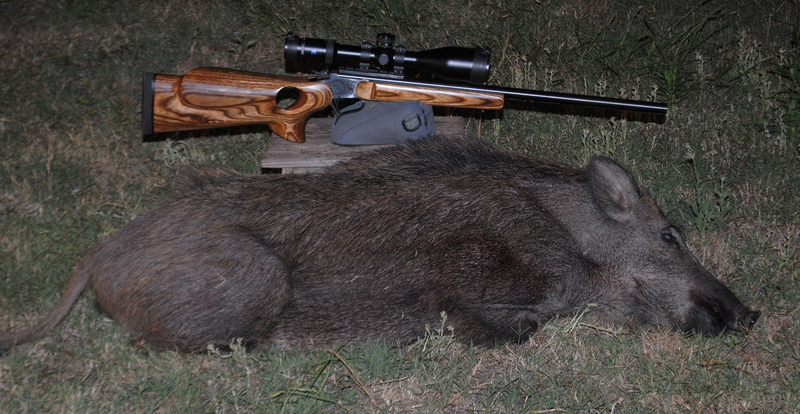 Well, it's been a while since I pulled the trigger on a hog, but that changed tonight. I was outside comparing scopes and about to go back in as the available light was all but gone. The deer out in the pasture were just ghostly figures and blended into the terrain, and my distant optical charts had faded away. But it was then that numerous flashes of white tails caught my attention -- and also when I saw a dark figure darting in and out of the cedar and huisache. Within seconds I confirmed it was indeed a hog.

I knew I had to act quickly, so when the first good opportunity presented itself and he slowed to a walk, I led with the illuminated dot of the #60 reticle and sent a 123 grain Hornady SST across 170 yards of space. The shot felt good, and I was reassured by the solid sound of the bullet's impact. But the soft recoil nudging me off target and the prevailing darkness meant I could not see if the hog ran or went down, etc. Nonetheless, I again looked through the Zeiss Victory HT 3-12x56 but could discern no movement and could see no body. At that point, I pulled my phone out of my back pocket, and it said 8:58, so we'll call the shot at 8:57 -- a full 41 minutes after legal sundown if my solunar chart is correct.

When I took the shot, the hog had just cleared a known landmark: a small cedar that I've often used as a yardage marker. So I drove down to it with the intention of looking for blood, but there was no need. The boar had whirled to run, swapping ends and dropping right behind the cedar -- just 5-6 feet from where he took the bullet but completely out of sight from my shooting rest.

The 123 grain Hornady, launched at 2603 fps from the 24" barrel, centered the onside shoulder, pulverized the uppermost edge of the heart, damaged the lungs and left a small, dime-sized exit through the opposite shoulder. The chest cavity was filled with blood and gushed when the hog was opened up. If you look closely, you can see the dark spot in the photo where the Hornady left the scene.