We had a real adventure this year for our 8th Annual Texas Predator Posse Rendezvous! We had 105 Posse members registered from 5 States: Texas, Oklahoma, Kansas, Colorado, and Arkansas! We were back at Camp Sol Mayer Boy Scout Camp outside Menard, Texas.
The big story was the unexpected winter storm that hammered us. We had a great turn-out in spite of some terrible weather. We were expecting some rain, but we got a very atypical winter deluge. Over the weekend we got 4.5" of rain and hail with the temperature never getting out of the 40's. We still got all of our shooting and calling contests done. Everyone had a great attitude and we made the best of it. We kept a fire going the whole weekend in the main lodge.
Burnham Brothers and Gary & Deb Roberson did their usual Texas BBQ for us all Saturday afternoon. Carl Barnes headed up our Friday cookout with some great assistant chefs. This year we cooked on the gas griddle in the lodge We moved our Saturday campfire and cookout inside this year too. We grilled over the fireplace and on Tinker's 6' pit which he backed up to the rear of the lodge. We had more food than we could eat in a whole weekend!
Bob
Tinker penned this poem for us. I had to post it here at the beginning of the Report. Great job Tinker and THANKS!!
The Great Adventure-Rendezvous 2012

Our Great Leader, Bobcat, called for us to gather,
so we began our journies, from where did not matter.

There was Shooter, 4-Shot, Sonora Ken, Swift220, and Engine4On,
our list of members goes on and on.

We have several different Mikes, a Flip-Flop, a Honda Guy, and a RedRder4Life,
and we all know most of the Gatesville Crew really owe Tinker's Wife.

Most of our adventure involved traveling in rain, hail, and high water,
to add to his adventure, Tinker brought his ten-year old daughter.

We all went to sleep to the sound of rain on the roof and multiple snores to boot,
upon awakening to muddy shoes, we all got together and started to shoot.

As the early bird gets the worm,
so did the first shooters as they took their turns.

While those who waited,
got inundated.

Neither rain or mud could halt our progress,
to once again determine who was best.

As in years before,
Bennie was the winner twice more.

To the hand calls we then went,
to let our mighty call vent.

With all the squealing and squaking,
no one could be heard talking.

There were coyote howls, rabbits in distress, and birds squealing,
with all this noise, the audiences and judges heads were reeling.

Just to show the old folks how it's done,
the youngsters went through their calls one by one.

Give Gary and Byron their due for listening to our sounds,
for their patience knows no bounds.

Let's give the cooking crew a big hand,
cause it was the best in the land.

Was for the nanner pudding and peach cobbler,
we should all say Thanks and ask for another.

Saturday Night was again a great meal,
we all gathered in the chow hall for fun that was real.

We finally reached Sunday morning and lost an hour of sleep,
only to wake and still have to walk thru mud so deep.

With a stick and string,
the archers gave their arrows a fling.

It was too early for me,
so I don't know who the winner turned out to be.

As with everything that is fun,
we reach the point where everything is done.

The cabins were swept and cleaned,
while the kitchen and dining hall was mopped.

As we all travel home and think about this past weekend,
let's all Thank those who made it a place to make a new friend.

For those who did all the work at the ranges,
either in the kitchen cooking or on the shooting ranges.

These few made it possible for the rest of us to sit and remininse,
and to tell stories about how we never miss.
The Camp Entrance......before.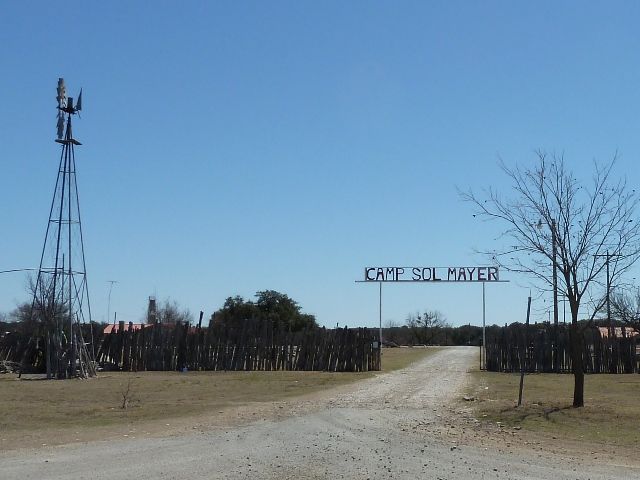 Some of our weather.