You asked for it, you got it!!!
We are doing another limited edition run of Texas Predator Posse AR-15 stripped lowers for 2010. We will have 40 this time and they will be sequentially numbered, 1 of 40, 2 of 40, etc. All will have the Texas Predator Posse logo engraved on them as well. Spike's Tactical is doing them for us. You may request a specific # if you wish, otherwise they will be numbered as you order them below.
The cost will be $125, $5 less than in 2007!
Once all the funds are received I will cut one check for all of them. They will be shipped to your individual FFL's.
By request, we will auction off "#1 of 40" after the others are taken.
Make your check or money order payable to "Bob Connell" and mail them to:
Bob Connell
P.O. Box 585
Devine, TX 78016
Please put your Posse user name on your check!!
I will hold all the checks and deposit them just before I cut the check for the entire order once they are all spoken and paid for.
I can't wait to start seeing some the AR's y'all build this time around!!
Bob
The easiest way to handle the shipping of your lowers is to have your FFL fax a signed copy of his FFL to the manufacturer along with your name as the buyer
AFTER THE PURCHASE IS COMPLETE
.
DO NOT SEND THE FFL TO THEM UNTIL I POST THAT IT IS OK. THAT WILL CREATE PROBLEMS FOR THEM AND CREATE ILL WILL TOWARDS US! PLEASE DO NOT CONTACT THE MANUFACTURER ABOUT THIS FOR ANY REASON. I PROMISED THEM ONE POINT OF CONTACT ON A GROUP PURCHASE.
Do not send me your FFL copies. Angela at Spike has asked that you send the FFL along with YOUR NAME and the $15.00 ckeck for the shipping (up to 3 lowers) to her all at once. I will forward the FFL's already received.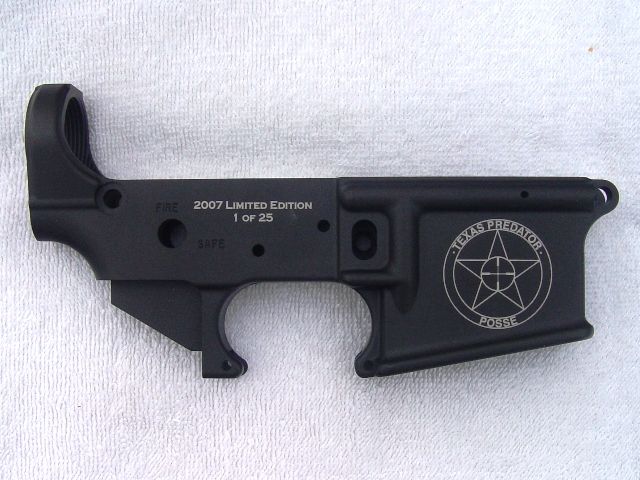 1-
geedubya(won auction)-

Paid



2-
Bobcat
-
Paid
3-
Bobcat
-
Paid
4-
Bow Hunter
-
Paid
5-
Ole Blood
-
Paid
6-
Ole Blood
-
Paid
7-
John Ryan-
Paid
8-
grizz
-
Paid
9-
breathandsqueeze
-
Paid
10-
breathandsqueeze
-
Paid
11-
312InchMagnum-
Paid

12-
waterbug
-
Paid
13-
engine4on-
Paid
14-
Neches Bobcat-
Paid

15-
tj5-
Paid

16-
sonoraken-
Paid
17-
redrider4life
-
Paid
18-
Mulerider-
Paid

19-
Capt. John
-
Paid
20-
SHOOTER-
Paid

21-
SHOOTER-
Paid
22-
CamoManJ-
Paid

23-
amigo
-
Paid
24-
geedubya-
Paid

25-
nunya
-
Paid
26-
bughole-
Paid

27-
sneedb82
-
Paid
28-
Stormking-
Paid

29-
Stormking-
Paid

30-
Joe-
Paid
31-
cbarnes-
Paid

32-
deadeye68-
Paid
33-
dkhunt-
Paid

34-
sportnclays-
Paid

35-
Wiley-
Paid

36-
bughole-
Paid
37-
amigo
-
Paid
38-
SO TX Sasquatch-
Paid

39-
kidd-
Paid

40-
kidd-
Paid